ExtremeSwitching

X590 Series Switches

The X590 series switch provides 10 Gb datacenter aggregation with 100 Gb uplinks, ideally suited for use as a "leaf" switch in conjunction with "spine" switches like the X690 and X870 series.

The X590 series switches include the following base models:

Front-panel Ethernet ports provide 40 Gb and 100 Gb Ethernet connectivity using installable QSFP28 and QSFP+ optical modules, respectively. Each X590 switch has:
One QSFP+ based 40 Gb port. With appropriate cabling, the QSFP+ port can be partitioned into four 10 Gb ports.
Two QSFP28 based 100 Gb ports. With appropriate cabling, each of the QSFP28 ports can be partitioned into 10 Gb, 25 Gb, 40 Gb, or 50 Gb ports.
For details about the port partitioning options that are available on X590 switches, see Partitioning X590 Switch Ports into Data Lanes.
Each X590 switch also has 24 front-panel Ethernet ports that provide 10-gigabit Ethernet connectivity. Connectivity is 100Mb/1 Gb/10GBASE-T for the X590-24t-1q-2c model and 1 Gb/10GBASE-X SFP+ for the X590-24x-1q-2c model.
A serial console port on the front panel of the X590 series switch allows you to connect a terminal and perform local management. An Ethernet management port can be used to connect the system to a parallel management network for administration. Alternatively, you can use an Ethernet cable to connect this port directly to a laptop to view and locally manage the switch configuration. The Ethernet management port supports 10/100/1000 Mbps speeds.
Switch cooling is provided by replaceable fan modules. Fan modules are available in two different models that direct the airflow either from front to back or from back to front.
Note
Ensure that all fan module slots are filled when the switch is powered on. Fan modules can be hot-swapped after power has been turned on.
Two power supply bays accommodate either AC or DC power supplies. Power supplies have integrated cooling fans that operate independently of the switch fans. Like the fan modules, the power supplies are available in models with either front-to-back or back-to-front cooling airflow.
All installed fan modules and power supplies in a X590 series switch must have the same airflow direction.
X590 series switches require ExtremeXOS version 22.6 or later.
Partitioning X590 Switch Ports into Data Lanes
Front-panel ports on X590 series switches can be configured for either 100-gigabit or 40-gigabit mode, and each port can be partitioned into data lanes through the use of split cables. This yields a total of up to 36 ports for each switch.
Port numbers are assigned depending on whether the physical ports are partitioned into data lanes. To illustrate, X590 Ports that Can Be Partitioned into Data Lanes shows the physical ports on the X590 front panel that can be partitioned. Port Number Assignments (in 40 Gb Mode) and Port Number Assignments (in 100 Gb Mode) detail how port numbers are assigned for each of the physical ports.

X590 Ports that Can Be Partitioned into Data Lanes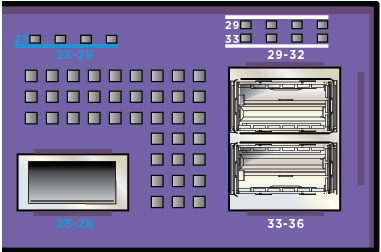 The port labeled 25-28 operates in 40 Gb mode, acting as a single 40 Gb port or multiple 10 Gb ports.
The ports labeled 29-32 and 33-36 operate in 40 Gb mode or 100 Gb mode, with a variety of speeds.
In 40-gigabit mode, each port can be partitioned into four 10-gigabit data lanes.
In 100-gigabit mode, each port can be partitioned into two 50-gigabit data lanes or four 25-gigabit data lanes.

Port Number Assignments (in 40 Gb Mode)
Physical Port Number (on Switch)
Has these Assigned Port Number(s)....
...with this Port Speed
25-28
25
40 Gb
25,26,27,28
10 Gb
29-32
29
40 Gb
29,30,31,32
10 Gb
33-36
33
40 Gb
33,34,35,36
10 Gb

Port Number Assignments (in 100 Gb Mode)
Physical Port Number (on Switch)
Has these Assigned Port Number(s)....
...with this Port Speed
29-32
29
100 Gb
29,31
50 Gb
29,30,31,32
25 Gb
33-36
33
100 Gb
33,35
50 Gb
33,34,35,36
25 Gb