STK-RPS-150PS and RPS Shelves Technical Specifications
The Extreme Networks STK-RPS-150PS is a 150 watt DC power redundant power supply for use with an Extreme Networks stackable or standalone fixed switch model that does not support PoE.
Caution
The STK-RPS-150PS does not support pliant fixed switch models. Do not connect the power cable from an STK-RPS-150PS to a PoE-compliant fixed switch. Otherwise, damage to the switch may result.
The STK-RPS-150PS can be installed as a standalone unit or with the following rack-mounted shelves:
STK-RPS-150CH2, a two-slot shelf
STK-RPS-150CH8, an eight-slot shelf
STK-RPS-150PS Specifications

Physical Specifications
Dimensions

7.7 H x 2.04 W x 10.1 D (in.)

19.6 H x 5.2 W x 25.7 D (cm)

Unpackaged Weight

3.85 lb (1.75 kg)

Power Specifications
| | |
| --- | --- |
| AC input frequency range | 50 to 60 Hz |
| AC input voltage range | 100-240 VAC |
| Output Voltage | 12VDC |
| Output Current | 1.0 A min., 8.5 A or 13.0 A max. |

Environmental Specifications
| | |
| --- | --- |
| Operating temperature | 0°C to 50°C (32°F to 122°F) |
| Storage temperature | -40°C to 70°C (32°F to 122°F) |
| Operating humidity | 5% to 95% (non-condensing) |
STK-RPS-150CH2 Specifications

Physical Specifications
Dimensions without mounting brackets

5.5 H x 44.0 W x 18.0 D (cm)

2.2 H x 17.3 W x 7.0 D (in.)

Unpackaged Weight

2.09 lb (0.95 kg)
STK-RPS-150CH8 Specifications

Physical Specifications
Dimensions without mounting brackets

22.26 H x 44.0 W x 26.4 D (cm)

8.77 H x 17.3 W x 10.4 D (in.)

Unpackaged Weight

11.6 lb (5.27 kg)
STK-RPS-150PS Connector Pin Locations

STK-RPS-150PS Connector Pin Locations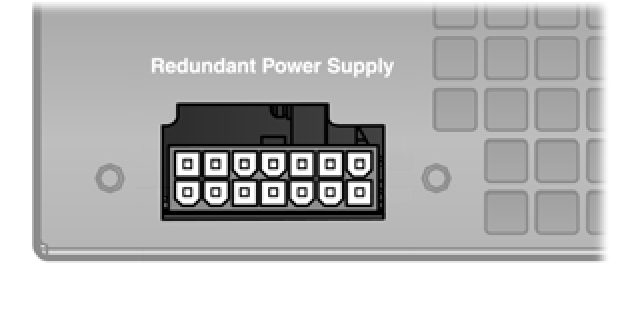 STK-RPS-150PS Connector Pin Functions
| Pin | Function | Pin | Function |
| --- | --- | --- | --- |
| 1 | - 50 V return | 8 | Ground |
| 2 | - 50 VDC | 9 | No connection |
| 3 | 12 VDC output | 10 | RPS present |
| 4 | 12 VDC output | 11 | Status 1 |
| 5 | 12 VDC output | 12 | Status 2 |
| 6 | 12 VDC output | 13 | Power good |
| 7 | Ground | 14 | Ground |