Network View
The Network View screen displays device topology association between a selected access point, its RF Domain and its connected clients.
Access points and clients can be selected and viewed using various color schemes in respect to neighboring access points, connected devices and performance criteria. Display options can be utilized to review device performance and utilization, as well as the RF band, channel and vendor. For more information, see Network View Display Options.
To review a device's network topology, select Dashboard → Network View.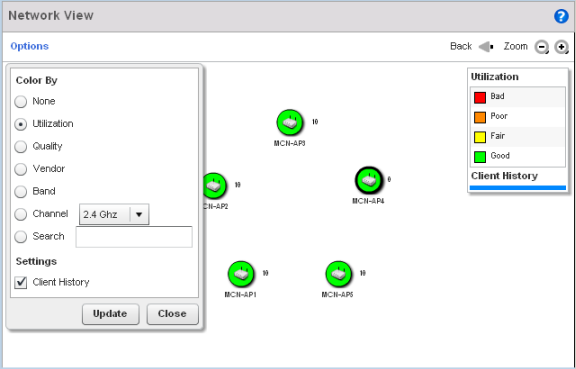 The left side of the Network View screen contains an expandable System browser where access points can be selected and expanded to display connected clients. Navigate the System browser to review device connections within the access point managed network. Many of these peer access points are available for connection to access points in Virtual Controller AP mode.

Network View - System Browser